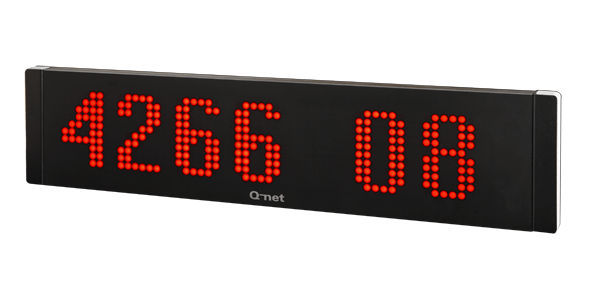 Nowadays there is a bigger demand for queue management systems, which can handle big number of visitors (more than 2000 persons per day). This type of systems require 4-digit ticket numbers.
Our DS08 counter display is able to show 4-digit ticket numbers, like A123 (to show the service names with letters) or 1234. Besides the ticket number it is able to show the number of counter. The display supports animations and moving text. When the clerk logs out of his calling unit, the display will show 'Closed'.
To help the customers' orientation the counter displays can be mounted above or beside the counters, optionally a stainless steel tube (ODP05) can be used to fix it onto the table or on the ceiling.
The display is able to show 8 digits on dot matrix; the color of the display is bright red.
At calling, the ticket number is blinking e.g.: for 30 seconds (blinking time can be adjusted in the Q-net software) on the display.
The number is shown on the display as long as the CLOSE button on the calling unit has been pushed.
The DS08 display can swap between showing Arabic and English numbers, the swapping time can be adjusted in the Q-net software.
The DS08 display is available for the Q-net Pro system.
Technical details:
Height of characters: 75 mm
Dot matrix
Dimensions:
Height: 120 mm
Width: 520 mm
Depth: 20 mm
Power requirement: 12V DC 1,7A
---