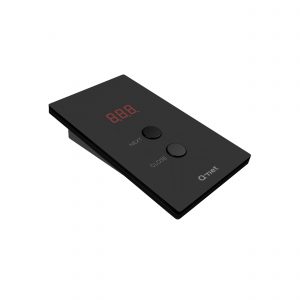 This simple, two-button keyboard is used by the clerks to handle the customers in the system (call the customer, repeat the call, close) .
The 3-digit display on the keyboard will give alphanumerical information (ticket number, settings).
It has a "waiting for customer" option, in this status, if a customer arrives and takes a ticket, the keyboard will call him automatically. The Basic and Basic Plus system can handle up to 16 keyboards.
KC15 can be used in both Q-net Basic and Basic Plus.
Dimensions:
Height: 30 mm
Width: 83 mm
Depth: 124 mm
Power requirements: 12V DC, max 0.2A
Weight: 0,23 kg